How To Get Started With Remodeling The Kitchen?
Kitchen remodelling is the most expensive home improvement project, but you may be able to recoup a significant portion of the costs. Homeowners gave the new kitchen a "joy score" of 10. To ensure that your kitchen remodels yield a positive return, make a plan, plan, and plan.
Take pleasure in the process when embarking on a kitchen renovation. Get insights from the best Interior designers in the town qualified with M. Des. in furniture and interior design on designing a best-looking kitchen. Learn more here.
9 Tips For Renovating Kitchen
Gather ideas for your kitchen remodel and draw them out on paper. Then, decide on your design preferences and save ideas in a folder or vision board. When planning your kitchen remodelling project, sketch out a general outline of the project and determine the best layout for the room.
The planning
Examine your current kitchen and create a drawing that includes measurements for doorways, walkways, counters, and other features. Design your kitchen with traffic patterns in mind, and consider features that make cooking and cleaning in the kitchen more enjoyable.
Kitchen Islands
Kitchen islands are still in style and must-have in a newly renovated kitchen. However, ensure you have a large walkway to allow for multiple appliances to run simultaneously. A kitchen design should allow for 15 inches of counter space on either side of the cooktop and refrigerator.
Organising the Miscellaneous
When organising your kitchen, consider your cooking habits. Set up a message centre near the kitchen telephone, and keep a notebook, calendar, and writing utensils nearby. In today's world, everything is done digitally, so your kitchen should have multiple outlets and USB charging stations. Install a cabinet in your kitchen that is dedicated to recycling. This will make recycling a simple task for you.
Design it Child friendly
When designing a kitchen for children, keep the cooktop out of high-traffic areas. Design your kitchen to keep dangerous items out of reach of children and adults.
Flooring
If you're in love with the look of wood flooring but want something more durable, a top expert, M Des interior design, recommends stone flooring for your kitchen and porcelain imitation wood flooring. However, ensure that you consider the footprint of the kitchen. Many people are tiling their kitchens, but instead of using small, delicate tiles, they use larger, wider tiles.
Space
Ask for help with your kitchen remodelling project, and be honest with yourself about appliances. A new kitchen can be eye-catching but may not be appropriate for your cooking needs. Kitchen appliances are tools for preparing and storing food, but the focus of your kitchen remodel should be on the overall design and functionality of the space. Keep the same footprint as before if possible.
Lighting
Lighting is important in a kitchen to remodel. In a kitchen, lighting can make it appear larger and brighter and assist you in working safely and efficiently. You should have two types of lighting: one for general illumination and another for task illumination. When remodelling a kitchen, use dimmer switches to regulate the intensity and mood, and opt for low-maintenance products with long warranties. To make a small kitchen feel bigger, use light colours and natural light. A small kitchen can appear larger by drawing back window curtains, using softer light bulbs and mirrors.
Cabinets
Install cabinets that reach the ceiling, organise your kitchen by hanging items, and attach hooks to closet doors for aprons, brooms, and mop handles. If you're looking for kitchen cabinets, consider paint or stain grade wood.
A well-designed kitchen cabinet box can make a significant difference in a kitchen remodel. Install child locks on kitchen cabinets and drawers that contain dangerous items for children and pets. A kitchen can be designed to reduce the amount of time you spend cleaning. By installing shelves that are easy to clean, you can avoid spending an excessive amount of time cleaning up messes.
Kitchen aisles
Create a compact work core in your kitchen to save time and effort when preparing meals and dining with family. The kitchen aisles must be wide enough to accommodate multiple cooks, and the island counters and appliances must be placed between 42 and 48 inches apart.
Budget
A high-end kitchen renovation can be accomplished on a tight budget if you have the time to do it yourself. To begin your kitchen remodelling project, prepare a budget ceiling and contact contractors.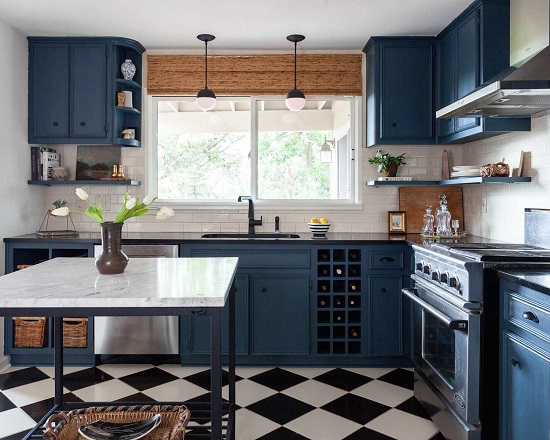 Tips To Make Renovation Easier
A kitchen can take anywhere from one to three months to complete. Ensure that you follow these tips to make renovations easier.
A major kitchen can be completed by a professional. Use your network of friends, colleagues, and good old-fashioned research to find the most qualified professionals.
During a kitchen remodel, homeowners should anticipate potential problems and keep the contractors on schedule.
Homeowners themselves can complete a kitchen, but it is important to hire professional assistance when necessary.
To survive a kitchen remodel, prepare a makeshift kitchen in another house room, bring only the tools and equipment you'll need for the cooking process, and keep non-perishable items on hand.
We recommend renting a dumpster for any kitchen remodel project to dispose of your waste.
Once the dust has settled, you can take a look at your newly remodelled kitchen.
After your kitchen renovation project is completed, you can dismantle your temporary kitchen and return to your regular cooking routine.
Renovations to your kitchen can increase the value of your home by 25%. Kitchen remodelling can take several weeks to complete, if not several months. If you're planning a kitchen remodel, avoid spending money on things that aren't necessary.